Hawke Sidewinder 30 SF 4-16x50 SR PRO SFP IR Rifle Scope
Price Match
Details
New for 2020, Sidewinder is the must-have high-performance multi-discipline scope. Parallax-free shooting from 9 metres to infinity assisted by an index-matched rangefinding side wheel (removable).
All models feature Hawke's new H5 optics which boasts a stunning 24° ultra-wide field of view with generous 100mm eye relief. Precision locking turrets with 1⁄10 MRAD clicks, now feature a witness window giving you an instant visual guide to your turret's position.
| | |
| --- | --- |
| Brand | Hawke |
| Product Name A-Z | Hawke Sidewinder 30 SF 4-16x50 SR PRO SFP IR Rifle Scope |
| SKU | 17251 |
| Highest Magnification | 11x-20x |
| Illuminated Reticle | Yes |
| Minimum Parallax | 10yd-∞ |
| Objective Lens Diameter | 50mm |
| Reticle Plane | Second |
| Tube Diameter | 30 mm |
| Turret Click Value | 0.1 MRAD (cm) |
| Manuals | Download Manual HERE |
Specs
Length: 339mm/13.3"
Weight: 725g/25.6oz
Eye relief: 102mm/4"
Focus/Parallax - Side Focus: 9m - ∞ - 10yds - ∞
Field of View: 10.6-2.7m @100m - 31.8-8.1ft @100yds
Exit Pupil: 12.5-3.1mm - 0.49-0.12"
Chassis: 30mm Mono-tube
Objective: 50mm
Illumination: Red (6 Levels of Brightness - Off Positions In-between)
Reticle: SR Pro II
Elevation Increment: 1⁄10 MRAD
Elevation Adjustment Range: 26 MRAD
Windage Increment: 1⁄10 MRAD
Windage Adjustment Range: 26 MRAD
Material: Aluminium
Ocular Type: Locking Fast Focus
Lens Coating: Fully Multi-Coated - 18 Layers
Power Selector Style: Knurled Posi-Grip with Removable Zoom Lever
Focal Plane: Second Focal Plane (SFP)
Turret Caps: No
Turret Type: Exposed Locking Turrets
Features
Resettable Locking Turrets With Witness Window
30mm Mono-Tube Chassis
Side Focus
Illumination
Side Wheel - Index-Matched (Removable)
Ultra-Wide Angle 24° FOV
High Volume Eyebox
100mm Eye Relief
Multi-LED High-Intensity Reticle
High Grade, Low Dispersion Crown Glass
18 Layer Fully Multi-Coated Lenses
Zoom Magnification Throw Lever (Removable)
Fast Focus Eyeball With Lock Ring
Reticle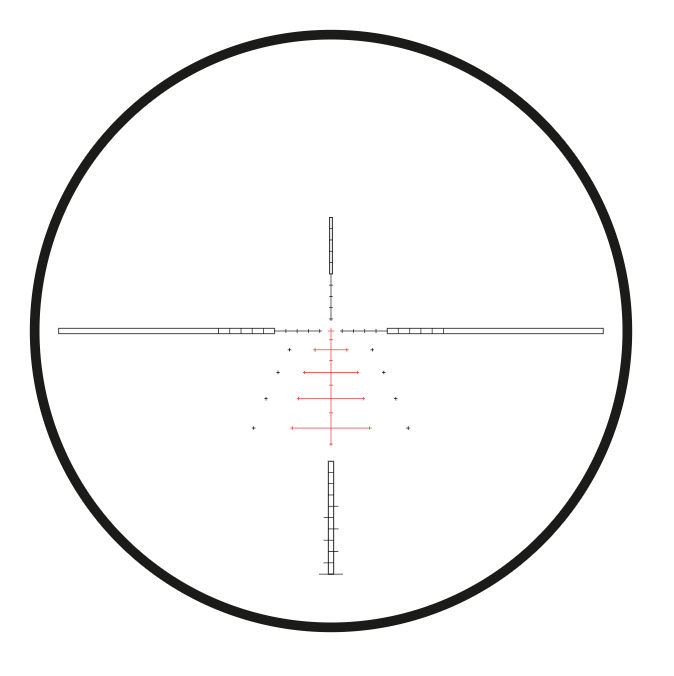 SR Pro II Reticle:
Working with your bullet's trajectory the SR Pro II reticle, exclusively from Hawke, is guaranteed to provide usable aim points whatever your calibre. The reticle features an illuminated central aim point, holdover aim points with windage bars and dots, hollow posts that don't obstruct your view and range finding brackets.
The holdover aim points on the lower post of the reticle are designed with gaps increasing in size. This more closely represents the fall of a bullet's trajectory; the further the bullet travels, the faster the bullet falls.
When on 8× magnification, the hollow bars at the edge of the reticle are divided into segments that each represent 3.6 inches at 100 yards (this is equal to 100mm at 100m, also known as 1 MRAD).
In the box?
Hawke Sidewinder 30 SF 4-16x50 SR PRO SFP IR Rifle Scope, user manual and accessories.
Warranty
Hawke No-Fault Lifetime Warranty:
When you buy your new Hawke scope or binocular, you're buying peace of mind… for life. In the event your product becomes damaged or defective we'll repair it at no charge to you. It doesn't matter how it happened or whose fault it was - we've got you covered.
Manuals
Download Manual HERE