Zero Compromise Optic (ZCO) ZC420 4-20x50 FFP Illuminated Zero Stop MPCT3 0.1 MRAD Rifle Scope w/ Spuhr One Piece Mount
Price Match
Details
Includes FREE Spuhr Mount -
(Please Note - Does NOT include Spuhr QDP).
The Zero Compromise Optic ZC420 combines excellent optical performance with unmatched mechanical precision in the best ultra-short design ever developed.
It combines the highest levels of mechanical precision, unmatched optical performance, and extreme durability in a compact package that can compete with much larger riflescopes. This small riflescope with a length of 325mm (12.8 inches) and a weight of only 986g (34.8oz) is ideal for any application where size and maximum performance are paramount.

The low magnification provides a wide field of view for rapid target acquisition while the mechanical system allows for 35 mils of elevation adjustment for the extreme long range engagements when required. Never before has so much performance been combined in such an elegant and compact riflescope.
| | |
| --- | --- |
| Brand | ZCO (Zero Compromise Optic) |
| Product Name A-Z | Zero Compromise Optic (ZCO) ZC420 4-20x50 FFP Illuminated Zero Stop MPCT3 0.1 MRAD Rifle Scope w/ Spuhr One Piece Mount |
| SKU | 400-0205 |
| Highest Magnification | 11x-20x |
| Illuminated Reticle | Yes |
| Minimum Parallax | 25m-∞ |
| Objective Lens Diameter | 50mm |
| Reticle Plane | First |
| Tube Diameter | 36 mm |
| Turret Click Value | 0.1 MRAD (cm) |
Specs
Magnification (Objective): 4-20
Objective ∅ (mm): 50
Main Tube Diameter (mm): 36
Click Value (MIL): 0.1
Elevation (MIL): 35
Elevation (m/100m): 350cm / 100m
Elevation lock: YES
Windage (MIL): 20
Side Adjustment (cm/100m): 200cm / 100m
Windage lock: YES
Field of View (ft/100yd): 28.0`- 6.0`
Field of View (m/100m): 9,3m - 2m / 100m
Eye Relief (inches): 3.54
Pupil Distance (mm): 90
Parallax Compensation (m): 25 - ∞
Length (inches): 12.8
Length (mm): 325
Weight (oz): 34.8
Weight (g): 986
Illumination: red | green
Focal Plane: FIRST
Light transmission (%): 92
Diopter: -3 | +2
Exit Pupil (mm): 10.9 - 2.5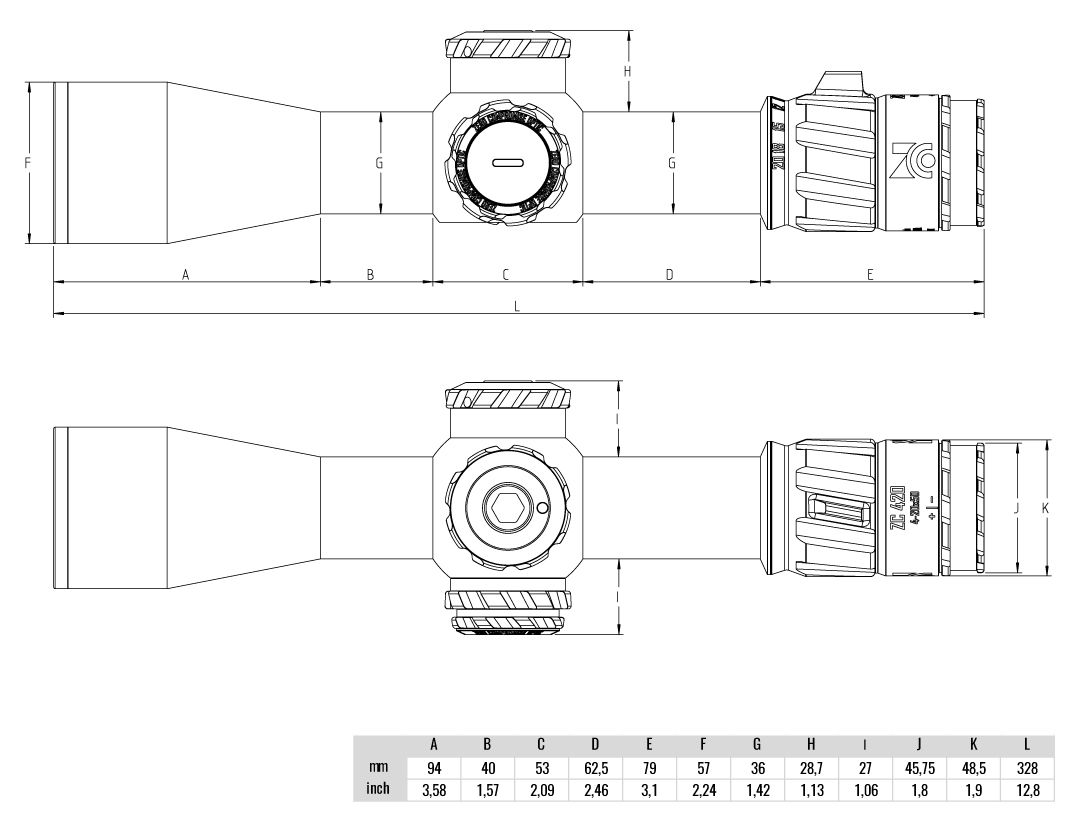 Reticle
In the box?
Zero Compromise Optic ZC 420 4-20x50 MPCT 3 FFP Rifle Scope
Neoprene cover
Bikini style lens covers
Lens cleaning cloth
Allen key
Manual
Warranty
Manufacturer's Life Time Transferable Warranty
All ZCO products are handcrafted with the greatest care and subjected to numerous tests and inspections before they are shipped.
In the highly unlikely event that a problem occurs with your ZCO riflescope, we offer you a transferable lifetime guarantee which, under normal use, includes mechanical and optical defects caused by the material or workmanship over the entire service life of the riflescope.
At our discretion, we will either repair a defective product or replace it (with a product of the same or a similar model) after a thorough inspection.
Exceptions to this guarantee are intentional improper or improper use, unauthorized changes or repairs, modifications or destruction of the serial number, improper assembly, negligence in handling the product and damage from fire, flooding or other natural disasters.
The electronic components built into this product are provided with a limited guarantee of 2 years from the date of purchase. With normal use, this includes material or processing-related defects.
For ZCO assemblies and ZCO assembly accessories, we offer you a guarantee period of 90 days from the date of purchase in the event that material or processing-related mechanical defects occur during normal use.
At our discretion, we will either repair a defective product or replace it (with a product of the same or a similar model) after a thorough inspection.
Sending the product in for service
Follow the steps below to guarantee timely processing:
Remove any accessories (sun visors, etc.)

Make a note of the serial number of your riflescope in writing and keep it to hand for possible queries.

Describe the error and place this document in the package with the rifle scope.

Place the ZCO product well padded and ideally in the original box, packed in a shipping box and adequately secure your package with adhesive tape. The original box alone is not enough for shipping.

Return your product insured and with a tracking number to the following address:
Zero Compromise Optic GmbH
Rep. Department
Bäckerstraße 1
2433 Margarethen am Moos
Austria