Hawke Frontier 30 SF 5-30×56 IR SFP MIL PRO Zero Lock Rifle Scope
Price Match
Details
Supreme accuracy for rifle shooting, driven and hunting applications. Featuring Hawke's new (2020) H7 optics with a high zoom ratio, supreme clarity and light transmission.
Hawke's flagship 'Frontier' rifle scopes are designed to give shooters ultimate flexibility in the field.
The index-matched lenses set the Frontier apart from its rivals.
Exceptional clarity throughout the field of view, together with crisp image transmission ensures an unsurpassed viewing experience.
The optical system with its wide magnification range provides increased flexibility when transitioning between close and long-range shooting.
| | |
| --- | --- |
| Brand | Hawke |
| Product Name A-Z | Hawke Frontier 30 SF 5-30×56 IR SFP MIL PRO Zero Lock Rifle Scope |
| SKU | 18441 |
| Highest Magnification | 21x-30x |
| Illuminated Reticle | Yes |
| Minimum Parallax | 15yd-∞ |
| Objective Lens Diameter | 56mm |
| Reticle Plane | Second |
| Tube Diameter | 30 mm |
| Turret Click Value | 0.1 MRAD (cm) |
| Manuals | Download Manual HERE |
Specs
Length: 401mm 15.8"
Weight: 724g 25.5oz
Eye relief: 102mm 4"
Focus/Parallax - Side Focus: 14m - ∞ 15yds - ∞
Field of View: 7.5-1.2m @100m 22.5-3.6ft @100yds
Exit Pupil: 11.2-1.9mm 0.44-0.07"
Chassis: 30mm Mono-tube
Optical System: 6×
Objective: 56mm
Illumination: Red
Reticle: Mil Pro
Elevation Increment: 1⁄10 MRAD
Elevation Adjustment Range: 17 MRAD
Windage Increment: 1⁄10 MRAD
Windage Adjustment Range: 17 MRAD
Material: Aluminium
Ocular Type: Locking Fast Focus
Lens Coating: Fully Multi-Coated - 21 Layers
Power Selector Style: Removable Zoom Lever
Focal Plane: Second Focal Plane (SFP)
Turret Caps: No
Turret Type: Exposed Zero Lock 'n' Stop Turrets (Patent Pending)
Hawke Worldwide Warranty
Made in China

Features
Exposed Zero Lock 'N' Stop Elevation Turret
30mm
Side Focus
Illumination
Wide Angle FOV
High Volume Eyebox
100mm Eye Relief
Multi-LED High-Intensity Reticle
High Grade, Low Dispersion Crown Glass
21 Layer Fully Multi-Coated Lenses
Zoom Magnification Throw Lever (Removable)
Fast Focus Eyeball With Lock Ring
Supplied With Professional Metal Flip-Up Covers.
Nitrogen purged
Shockproof
Waterproof
Fog proof
All calibre rated
Reticle
MIL PRO (20×) RETICLE:
Accurate mil spacing on 20× magnification. With half Mil spaced markings extending out to 8 Mil of holdover, the Mil Pro (20×) is a versatile reticle that provides aim points no matter how extreme the distance.
All reticle measurements are Mil spaced and offer 1 Mil, 0.5 Mil and 0.25 Mil brackets for range finding. Every second Mil spacing on the lower section is numbered to ensure the quick and easy acquisition of target and ease of reference.
Each cross has a see-through gap, allowing an unobstructed view of the target. The thick outer posts are hollowed to ensure they can be seen at all magnifications, without blocking out too much of the view.
Mil Pro 20× models have additional 1⁄4 Mil aim points on the centre section of the reticle to give even greater precision.
When on 20× magnification, the Mil spaced reticle and 1⁄10 MRAD turrets make for easy point of aim adjustment. Every 10 clicks on the turret will measure exactly 1 Mil spacing on the reticle, also known as 1 MRAD.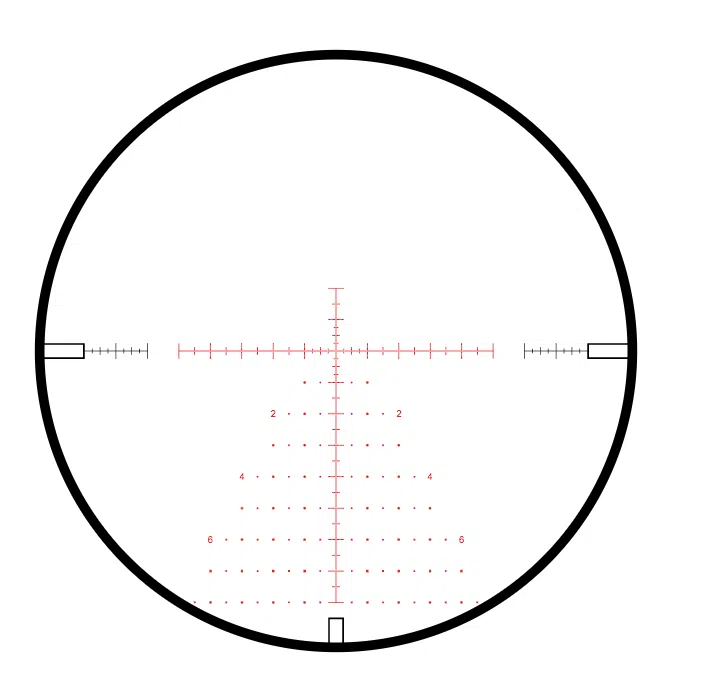 In the box?
Hawke Frontier 30 SF 5-30×56 IR SFP MIL PRO Zero Lock Rifle Scope
User Manual
Reticle Booklet
Zoom Lever
4″ Sunshade
Pro Flip-Up Lens Covers
CR2032 Battery
Lens Cloth
Warranty
Hawke Worldwide Warranty.
Manuals
Download Manual HERE