Hawke XB30 Pro SR 1-5x24 Crossbow Scope (+FREE WULF Torch RRP £19.95)
Now
£218.45
Was
£229.95
Was
£269.00
Price Match
Details
Hawke XB30 Pro SR 1-5x24 Crossbow Scope
The Hawke XB30 Crossbow Scope 1-5x24 XB30 Pro SR Reticle is generally considered to be the gold standard in crossbow optics. Incredible light transmission and outstanding image quality even when the light starts to drop at dawn or dusk. Hawke Sport Optics established the XB30 as the premier crossbow scope on the market in 2010. Recent upgrades ensure that Hawke maintains its status as the industry leader in crossbow optics. The same vari-speed technology that has made Hawke the leading provider of crossbow optics and reticle design is upgraded in the latest XB30, allowing for calibration on bows up to 450 fps, faster than any crossbow on the market.
Once sighted in at 20 yards, the variable power magnification system, functioning as a speed ring, can be used to calibrate the scope to the speed of the bow to provide even 10-yard aim points out to 100 yards. The 30mm optical system is encased in a 30mm mono-tube chassis to ensure durable performance for years to come.
The illumination package has also been upgraded. Rather than a traditional step-click switch, the new XB30 from Hawke uses a stepless rheostat, providing near endless adjustability to maximize reticle visibility in almost any ambient light condition.
As with all Hawke scopes, the lenses are fully multi-coated for the best possible light transmission and management. Waterproof, shockproof, and nitrogen purged to be fog proof; the XB30 is covered by the transferable Hawke¬ Worldwide Warranty. Additionally, the XB30 IR reticle is supported by the free Hawke BRC program. Supported by your true ballistic information, the BRC allows you to blueprint your projectile to any Hawke multiple aim point reticle.
| | |
| --- | --- |
| Brand | Hawke |
| Product Name A-Z | Hawke XB30 Pro SR 1-5x24 Crossbow Scope (+FREE WULF Torch RRP £19.95) |
| SKU | 12230 |
| Highest Magnification | 1x-10x |
| Tube Diameter | 30 mm |
Specs
Hawke XB30 Pro SR 1-5x24 Crossbow Scope
Length: 256mm 10.1"
Weight: 468g 16.5oz
Eye relief: 76mm 3"
Focus/Parallax - Fixed 46m 50yds
Field of View: 33.3 - 7m @100m 20.9 - 100ft @100yds
Exit Pupil: 24-4.8mm 0.94-0.19"
Chassis 30mm Mono-tube
Optical System 4-12×
Objective 40mm
Illumination Red
Reticle XB30 Pro SR
Elevation Increment 1⁄2 MOA
Elevation Adjustment Range: 210 MOA
Windage Increment 1⁄2 MOA
Windage Adjustment Range 210 MOA
Material Aluminium
Ocular Type Fast Focus
Lens Coating Fully Multi-Coated - 16 Layers
Power Selector Style Rubber Coated Posi-Grip
Focal Plane Second Focal Plane (SFP)
Turret Caps Yes
Turret Type Capped, Resettable, Low Profile
Hawke Worldwide Warranty
Made in China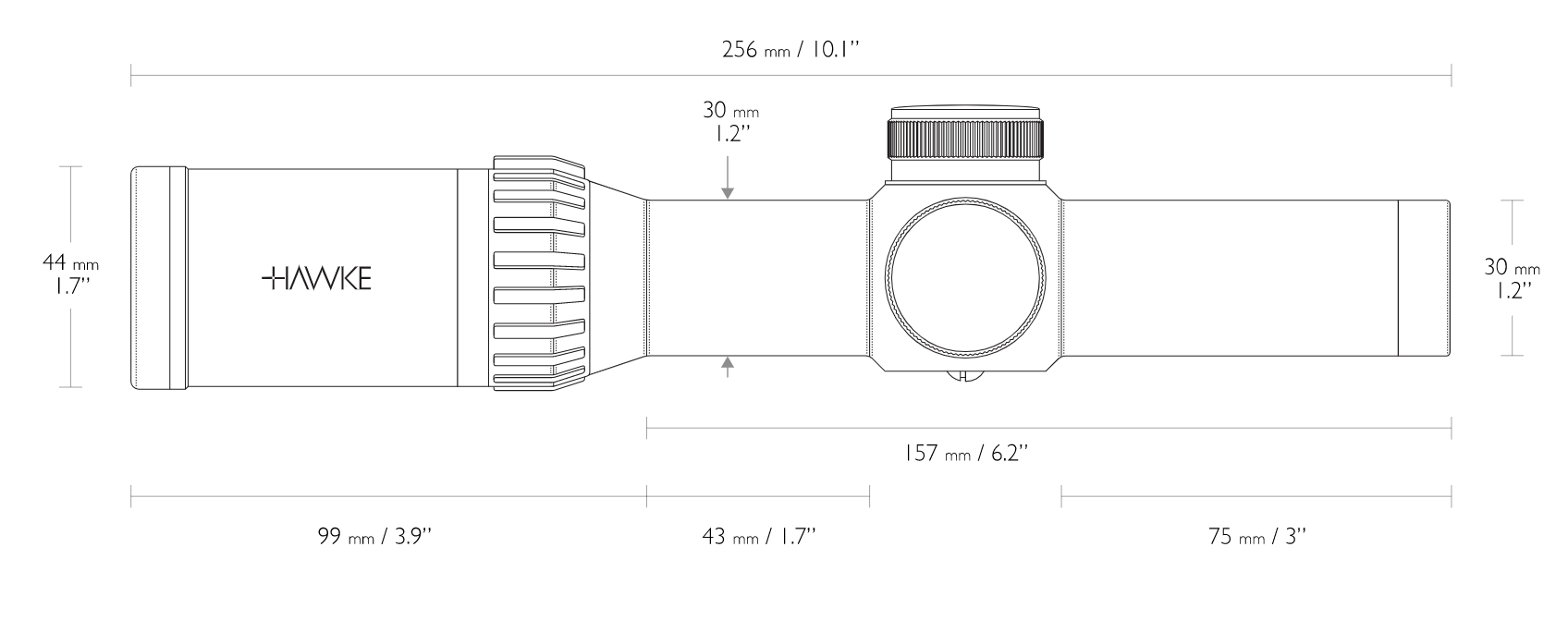 Features
Hawke XB30 Pro SR 1-5x24 Crossbow Scope
Capped Low-Profile Turrets
30mm
Illumination
1⁄2 MOA Low-Profile Fingertip Turrets
Fixed Parallax At 45 Metres
11 Layer Fully Multi-Coated Lenses
High Torque Zoom Ring
Fast Focus Eyebell
XB Multi-Line Reticles With Range Finding
Nitrogen purged
Shockproof
Waterproof
Fog proof
Reticle
XB30 Pro SR Reticle
The cross represents 2 inches across at their corresponding distance.
The range finding bars are floating so the FOV is clear. Bracketing of 4″ and 8″ on 20yd horizontal line, plus further 4″ brackets on dot markings out to 60yds.
Suitable for speeds from 215fps through 450 fps.