Spuhr HS30-21 30mm Hunting Sako/Tikka Optilock Scope Rings - 1x interface
Now
£129.16
Was
£151.95
Was
£159.95
Out of stock (Contact us for availability.)
Price Match
Details
Spuhr hunting mounts designed for Sako Rifles - Introduced to deliver the same accuracy, strength and repeatability as the ISMS system in the hunting field.
The Spuhr hunting mounts are available in 3 styles which allow you to select the number of Spuhr accessory attachments the mounts are fitted with. The Hunting model has one ring fitted with a Spuhr interface, ideal for fitting a red dot as a close target alternative to a high power hunting scope. The Aesthetic model is the classic hunting look with no interfaces while the Interface model has a Sphur interface fitted to both rings.
Please note that this mount attaches to the Tikka / Sako Optilock base and not directly to the rifle.
| | |
| --- | --- |
| Brand | Spuhr |
| Product Name A-Z | Spuhr HS30-21 30mm Hunting Sako/Tikka Optilock Scope Rings - 1x interface |
| SKU | HS30-21 |
| Mount Type | 2 Piece, Fixed |
| Width (Dovetail) / Firearm Manufacturer | Blaser Saddle |
Specs
Height: 21 mm/0.83"
Height: 6mm (Base to underside of ring)
Weight: 82 gram/2.9 oz
"Protected, EU Design Reg. No. 002438440/0001-0002"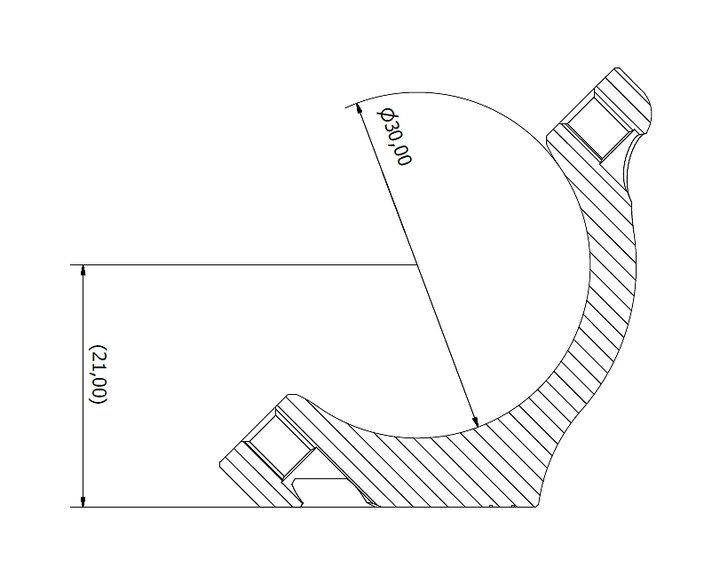 Features
Hunting rings for 30 mm tube on SAKO OptiLock bases/rails. Features one plain classic top cover and one Spuhr Interface top cover.
In the box?
Spuhr HS30-21 30mm Hunting Sako/Tikka Optilock Scope Rings - 1x interface