ýHornady Lock-N-Load Auto Charge Powder Dispenser
Speed and efficiency save time and money. With the Hornady Lock-N-Load Auto Charge Powder Dispenser, Hornady have combined both in one extremely accurate system. This unit is quick to setup, easy to use, and exceptionally precise to within 0.1 grains, and has a scale capacity of 1000 grains – and designed to be much easier to use than the competition.
An easy-to-use keypad coupled with a large, easy-to-read backlit display, automatic & manual dispense options, trickle function, three speed settings, overcharge protection, and easy clean out make this the single most effective powder measure on the market.
Features
Three speed settings to optimize dispense speed to powder size, shape and charge weight.
1000 gr. Hopper Capacity
Charge Weight of Up to 300 gr.
+/- 0.1 gr. Accuracy
Quick & Easy Calibration
Easy and quick powder changes and cleanup through side drain.
How Lock-N-Load Works
The patented Hornady Lock-N-Load System is as Easy as 1-2-3
Insert the Lock-N-Load die bushing into the press bushing and lock it into place with a twist. The six locking lugs on the die and press bushings will hold it securely in position
Insert your standard die with 7/8″-14 threads into the Lock-N-Load bushing
Adjust the die to the proper position and lock your setting into the place with Hornady's unique Sure-Lock lock ring
To change calibers, simply twist the die counterclockwise, remove die and insert your next preset Lock-N-Load die and bushing. Because they remain locked in their Lock-N-Load bushings, your dies will remain exactly as you set them. The positive locking action of the Lock-N-Load bushings holds the dies in rock solid, perfect alignment.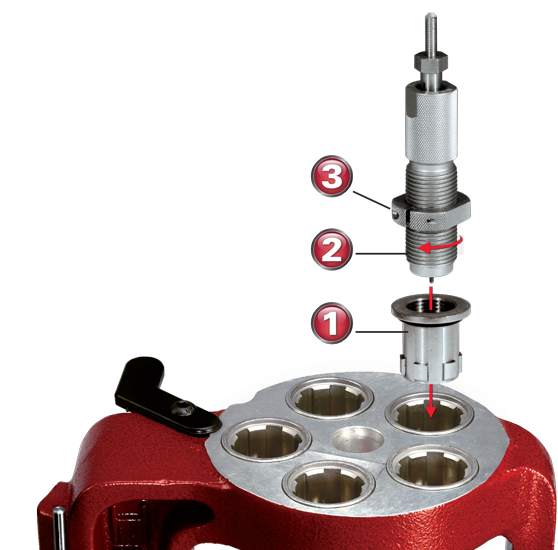 Video