Optisan CP Compact 3-12x32 SFP MIL Non-Illuminated MH10 Rifle Scope
Special Price
£279.00
Regular Price
£310.00
ORDER NOW 21-30 Day Delivery
Optisan CP Compact 3-12x32 SFP MIL Non-Illuminated MH10 Rifle Scope
ARRIVING IN STOCK AT THE END OF JULY!

Introducing the (NEW FOR 2020!) Optisan CP Compact 3-12x32 MIL MH10 Rifle Scope.
Compact and lightweight - well matched to the latest generation of compact rifles.

Optisan has developed the CP series to have minimal parallax error. This means you experience a minimal shift in the point of impact when shooting targets at varying distances, without adjusting your focus. This is especially useful when shooting HFT or hunting in the field when adjusting the parallax before each shot is not possible.

Optisan CP scopes have a standard length of eye relief allowing a suitable distance between your eye and objective, whilst shooting. This means that you can use this scope on guns with recoil such as Spring guns, Rimfire and Centrefire.

The 32mm objective and short overall length brings the weight towards the shooter; improving the balance and handling of the gun.
More Information

| | |
| --- | --- |
| Brand | Optisan Optics |
| Popularity | Optisan CP Compact 3-12x32 SFP MIL Non-Illuminated MH10 Rifle Scope |
| SKU | 04002 |
| Tube Diameter | 30 mm |
| Highest Magnification | 11x-20x |
| Reticle Plane | Second |
OPTICAL DATA
Magnification (LOW) 3X
Magnification (High) 12X
Objective Diameter (mm) 32mm
Outer dia. Objective (mm) 40mm
FOV (min.mag)(degree) 6.86-1.71
FOV (min.mag)(ft/100yds) 36.00
FOV (max.mag)(ft/100yds) 9.00
Eye Relief (in) (min. - max mag. ) 3.5'' - 3.3''
Exit Pupil (min. mag.) (mm) 10.6mm
Exit Pupil (Max mag.) (mm) 2.6mm
Diopter Range (dpt) +/- 2.0
Parallax Adjustment (yds) 10yds - infinity (100yds pa free)
Travel Per Rotation 10 Mil
Elevation adj. range ( ' ) ≥ 23 Mil
Windage adj. range ( ' ) ≥ 23 Mil
Length (mm) 242mm
Length (in) 9.52''
Eye Piece Diameter (mm) 39.5 mm
Eye Piece Diameter (in) 1.55''
Mounting Length front (mm) 30.00 mm
Mounting Length rear (mm) 56.00 mm
Total Mounting Length (mm) 123 mm
Tube Dia. (mm) 30 mm
Weight (g) 487g
Weight (oz) 17.17 oz
Coating Fully Multi-coated
MECHANICAL DATA
Tube Construction One-piece tube, aircraft aluminum
Elevation Adjustment (value per click) 0.1 mrad
Windage Adjustment (value per click) 0.1 mrad
Turret Style (Elevation) Low profile
Turret Style (Windage) Low profile
Surface Finish Matte Black
- Compact design
Only 25.4 cm length and less than 0.48 kg the CP is the perfect partner for compact and lightweight rifles.
- Minimized Parallax error
By using a 32mm objective lens the CP is able to minimise the effects of Parallax error. This means you have a scope that experiences very small shifts of impact as you change your head position or distance to target.
This means that you can leave the parallax fixed and shoot targets at different distances whilst experiencing minimal shift of impact, this is very helpful in many competitive and hunting shooting situations.
Parallax adjustment range is from 10 yards up to 500 yards to infinity,
- Springer rated
Field tested by champion shooters for more than for one year on spring air rifles it is a robust riflescope that is capable of use larger caliber rifles including centerfire
MH10 (Non-Illuminated)
Please note this is the illuminated version.

The CP 10x32 has the Non-Illuminated MH10 Reticle.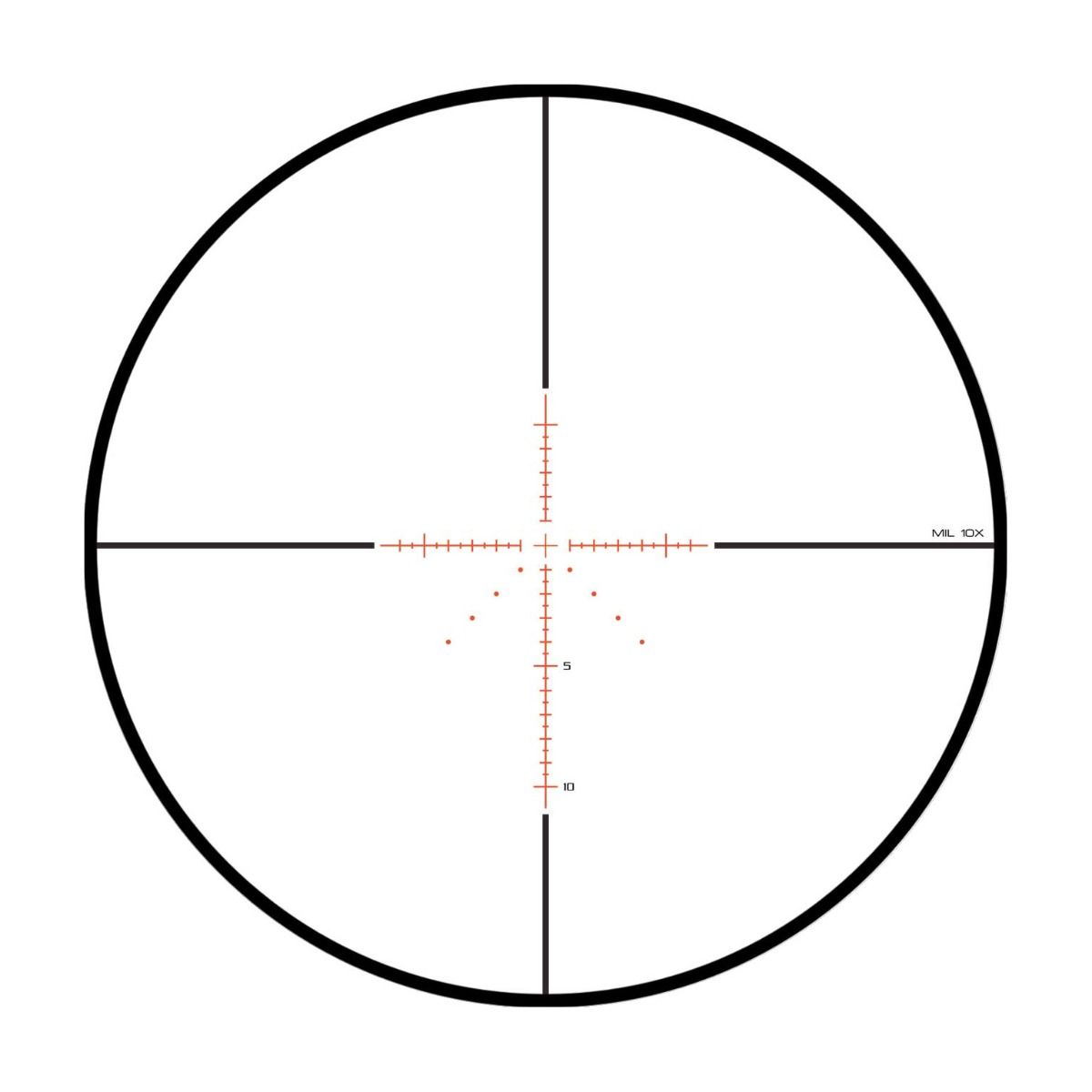 - 2.5'' Sunshade.
- ABS Flip-Up Covers
Optisan Lifetime Warranty