HIKMICRO ALPEX A50T-S Day & Night Rifle Scope
Price Match
Details
Please note: Due to distribution rights and agreements we can only sell HIK-MICRO products to residents of the UK.
HIKMICRO ALPEX A50T-S
Same great performance – stripped- back on price!
The award winning ALPEX is now available as a standalone, scope only package for the user who wants to add their own aftermarket IR torch. The ALPEX scope remains the same, we have just taken away the IR torch and associated accessories to deliver you even better value for money.
The ground-breaking Alpex day and night riflescope is BORN FOR LOW LIGHT HUNTING.
The advanced sensor technology and image processing delivers a detailed, full colour image through the day - automatically adjusting to twilight and continuing to display an amazing full colour image up until total darkness.
When darkness sets in, a single button press activates the black and white night mode and the performance of the sensor shines again. Any ambient light such as the moon or starlight is enough to provide a basic image while adding the an IR torch (not supplied) allows you to see a highly detailed view of your surroundings.
Built on a traditional 30mm riflescope tube chassis the Alpex is easy to mount using conventional riflescope rings and retains the classic look of your rifle. The riflescope tube also hosts the two internal lithium batteries that provide an outstanding 13 hours of runtime. The top turret that traditionally contains the windage adjustment holds a battery compartment where you can add an additional CR123a to gain an extra hour of runtime in an emergency.
The ergonomic design puts all of the major controls of the Alpex within easy reach.
Rolling the jog dial up and down controls your digital magnification (3.5x – 14x). Press and hold this in to access the menu which includes a simplified zeroing system with the inclusion of freeze-frame and magnification. Advanced software provides up to 5 zeroing profiles allowing you to use the Alpex on multiple Rifles.
The three buttons on the eye piece control the power, recording and quickly switch between Day & Night mode while the precise focus adjustment is located around the objective bell at the front of the scope.
The Alpex is also fitted with a microphone and recoil activated recording so it is easier to record your special hunting moment onto the built in 64gb internal memory. Connecting to the HIKMICRO Sight app makes it quick and easy to share these memories with your friends or stream the output from the scope in real time while you are in the field with your hunting buddy.
More Information

More Information
Brand
HIKMICRO
Product Name A-Z
HIKMICRO ALPEX A50T-S Day & Night Rifle Scope
SKU
HM-ALPEX-S
Unit Type
Night Vision
Detection Range
600m
Display Resolution
1024x768
Display Type
OLED
Magnification (Digital)
4x
Magnification (Optical)
3x
Objective Lens Diameter
50mm
Operating Temperature
-30/+40°C
Refresh Rate
50HZ
Sensor Resolution
1920x1080
Manuals

DOWNLOAD THE LATEST HIKMICRO ALPEX FIRMWARE (V5.5.55_230330) HERE

Key Feature: Reticle will now re-centre when increasing magnification.

**Click Here For How To Install Firmware**
Specs
Main:
Max Resolution: 1920x1080
Frame Rate: 50Hz
Lens (Focal Length): 50mm
Min. Focusing Distance: 3m
Field of View: 7.7 degrees x 5.8 degrees
Aperture: F1.2
Magnification: 3.5x
Image Display:
Display: 1024x768, 0.39 inch, OLED
Image Mode: Day, Night
Exit Pupil: 5mm
Eye Relief: 60mm
Diopter (Range): -5D to 5D
System:
Digital Zoom: 1x, 2x, 4x
Capture Resolution: 1440x1080
Record Video: On-board video recording
Standby Mode: Yes
PIP: Yes
Capture Snapshot: Yes
Freeze Zeroing: Yes
Recoil Activation Recording: Yes
Record Video Resolution: 1440x1080
Max. Recoil: 1000g
Reticle: Yes
Audio Recording: Yes
Wi-Fi Hotspot: Yes, HIKMICRO Sight App
Storage: Built-in EMMC (64GB)
Power Supply:
Battery Type: Two rechargeable Lithium batteries (internal)
Battery Operating Time: 12 hours continuous running (@ 25 degrees Celcius, Wi-Fi off)
Battery Capacity Display: Yes
Anti-Reverse Battery Connection: Yes
Overvoltage Protection: Yes
Power Supply: 5 VDC/2A, USB Type-C interface, supports QC3.0
PLEASE NOTE: When purchasing further CR123A batteries for your unit , please ensure the voltage
on the battery is no greater than 3.0V. This for your safety and those around you.
General:
Working Temperature: -30 to 55 degrees Celcius (-22 to 131 degrees Fahrenheit)
Dimensions: 442mm x 78.1mm x 83.5mm
Weight: 1062g without eyepiece and CR123A
Protection Level: IP67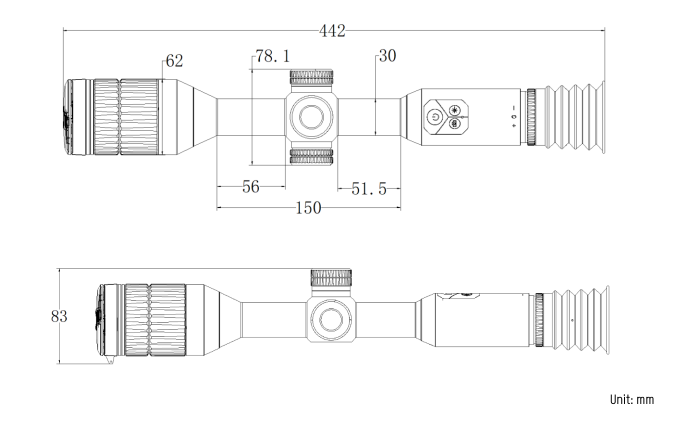 Zeroing Click Values:
(All the click values are in cm @ 100m)
1X Mag - 1.1cm 0.11Mil 0.36MOA
2X Mag - 0.550cm 0.055Mil 0.18MOA

4X Mag - 0.275cm 0.028Mil 0.090MOA
Features
1920 × 1080 High-definition sensor
Supports Day/Night mode
Supports audio recording
Supports recoil-activation recording
Supports video recording and snapshot, built-in EMMC (64 GB)
1024 × 768 resolution 0.39-inch LED display
Detection range up to 600 m
In the box?
HIKMICRO ALPEX A50T-S Day & Night Riflescope
Manuals
DOWNLOAD THE LATEST HIKMICRO ALPEX FIRMWARE (V5.5.55_230330) HERE
Key Feature: Reticle will now re-centre when increasing magnification.
**Click Here For How To Install Firmware**