Hawke Endurance 30 WA 2.5-10x50 LRC (10x) Rifle Scope
Out of stock (Contact us for availability.)
Price Match
Details
Designed for all hunting disciplines - from varmint to big game. The Hawke Endurance 30 WA 2.5-10x50 LRC(10x) Rifle Scope features Hawke's new H5 optics which boasts a stunning 24° ultra-wide field of view with generous 100mm eye relief.
The H5 illumination system features multi-LED technology for high-intensity illumination. Available with an L4A Dot Capped Turrets or Tactical Dot Reticle Exposed Locking Turrets.
| | |
| --- | --- |
| Brand | Hawke |
| Product Name A-Z | Hawke Endurance 30 WA 2.5-10x50 LRC (10x) Rifle Scope |
| SKU | 16321 |
| Highest Magnification | 1x-10x |
| Illuminated Reticle | Yes |
| Minimum Parallax | 100yd-∞ |
| Objective Lens Diameter | 50mm |
| Reticle Plane | Second |
| Tube Diameter | 30 mm |
| Turret Click Value | 1/4 MOA (0.25) |
| Manuals | Download Manual HERE |
Specs
Length: 334mm 13.1"
Weight: 612g 21.6oz
Eye relief: 102mm 4"
Focus/Parallax: Fixed Focus 91m - ∞ 100yds - ∞
Field of View: 16.6 - 4.2m @100m 49.8 - 12.8ft @100yds
Exit Pupil: 20-5mm 0.8-0.2"
Chassis: 30mm Mono-tube
Optical System: 2.5-10×
Objective: 50mm
Illumination: Red
Reticle: LR Dot
Elevation Increment: 1⁄4 MOA
Elevation Adjustment Range: 110 MOA
Windage Increment: 1⁄4 MOA
Windage Adjustment Range: 110 MOA
Material: Aluminium
Ocular Type: Fast Focus
Lens Coating: Fully Multi-Coated - 18 Layers
Power Selector Style: Rubber Coated Posi-Grip
Focal Plane: Second Focal Plane (SFP)
Turret Caps: Yes
Turret Type: Low Profile
Hawke Worldwide Warranty
Made in China
Features
Exposed, Locking Turrets
30mm
Illumination
Ultra-Wide Angle 24° FOV
High Volume Eyebox
100mm Eye Relief
Multi-LED High-Intensity Reticle
High Grade, Low Dispersion Crown Glass
18 Layer Fully Multi-Coated Lenses
High Torque Rubber Zoom Ring
Fast Focus Eyeball
Nitrogen purged
Shockproof
Waterproof
Fog proof
All calibre rated
Reticle
LRC Reticle (10×):
Working with your bullet's trajectory the LRC reticle, exclusively from Hawke, provides usable aim points for Long Range Centerfire shooting and hunting. The LRC is built specifically around the ballistics of centerfire cartridges, making holdover/under accuracy more possible than ever before. The glass-etched LRC features an illuminated aim point with windage markers for better accuracy and a reticle that stands out against foliage and dark backgrounds.
The aim points of the reticle are designed with gaps increasing in size. This more closely represents the fall of a bullet's trajectory; the further the bullet travels, the faster the bullet falls. All you need to do is adjust the magnification setting to match your ballistics.
The reticle can be used for yards or meters depending on the magnification setting. Zero the rifle at 200 yards/meters using the marker in the centre of the reticle. Adjust the magnification to match your cartridge based on the ballistic table overleaf. The holdover markers below the centre represent 300, 400 and 500. The top of the post above the centre can be used for distances closer than 200.
For exact holdover aim points download the Hawke X-ACT application for computers and smartphones.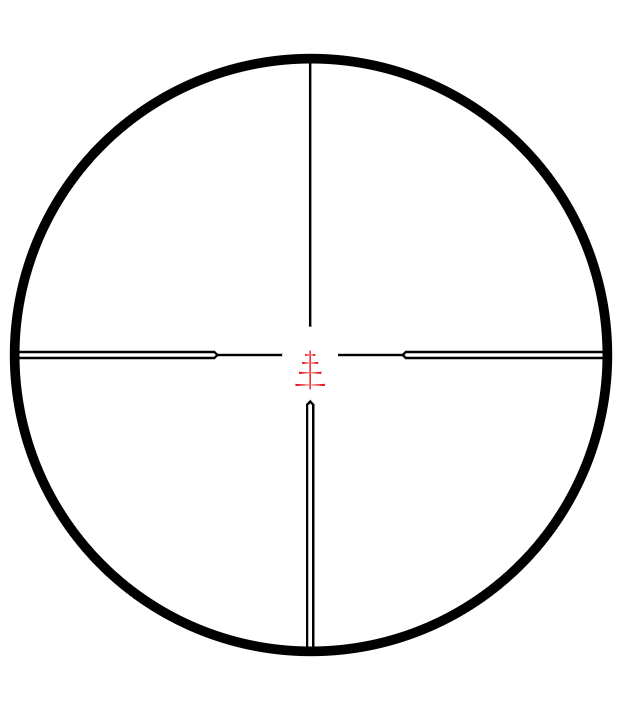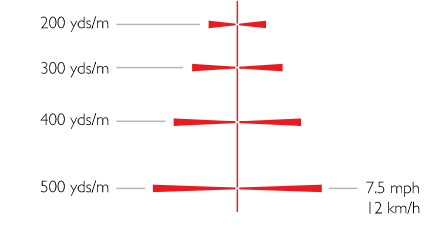 In the box?
Hawke Endurance 30 WA 2.5-10x50 LRC (10x) Rifle Scope
Box
Instruction Manual
Reticle Booklet

Lens Cloth

Lens Covers

4″ Sunshade

CR2032 Battery
Manuals
Download Manual HERE