OUR 2021 BLACK FRIDAY SALE WILL BE OUR BIGGEST ONE YET!
AND HERE'S WHAT'S HAPPENING...


BEGINNING ON MONDAY 22ND NOVEMBER, WE WILL BE HOSTING 4 UNIQUE DISCOUNT DAYS ON SELECTED CATEGORIES.
LOCK-IN YOUR ORDERS DURING THESE DAYS TO AVOID DISAPPOINTMENT!
MONDAY 22ND = 10% OFF NIGHT VISION & THERMALS
USE COUPON HEAT10
...
TUESDAY 23RD = 10% OFF OPTICS
USE COUPON ZOOM10
...
WEDNESDAY 24TH = 10% OFF MOUNTS & ACCESSORIES
USE COUPON LOCK10
...
THURSDAY 25TH = 10% OFF CLOTHING
USE COUPON WARMTH10
...
THEN ON BLACK FRIDAY - CYBER MONDAY IT'S THE BIG ONE, 10% OFF EVERYTHING*
USE COUPON BFSALE10
*DISCOUNT CODES DO NOT APPLY TO PREOWNED, SALE/CLEARANCE, BLACK FRIDAY CLEARANCE, INSANITY DEALS, AMMO & GUN SAFES, AND OPTICS DRAWS.

...
PLUS!
THROUGHOUT OUR BLACK FRIDAY SALE WEEK, YOU'LL BE ABLE TO EARN 5X OPW POINTS ON EVERY £1 YOU SPEND AT OPW DURING THIS PERIOD!
OPW POINTS CAN ONLY BE COLLECTED WITH AN ACCOUNT SO MAKE SURE TO CREATE ONE NOW! CLICK HERE
OPW POINTS WILL ONLY BE ADDED TO YOUR ACCOUNT ONCE THE ORIGINAL ORDER HAS BEEN MARKED AS DISPATCHED.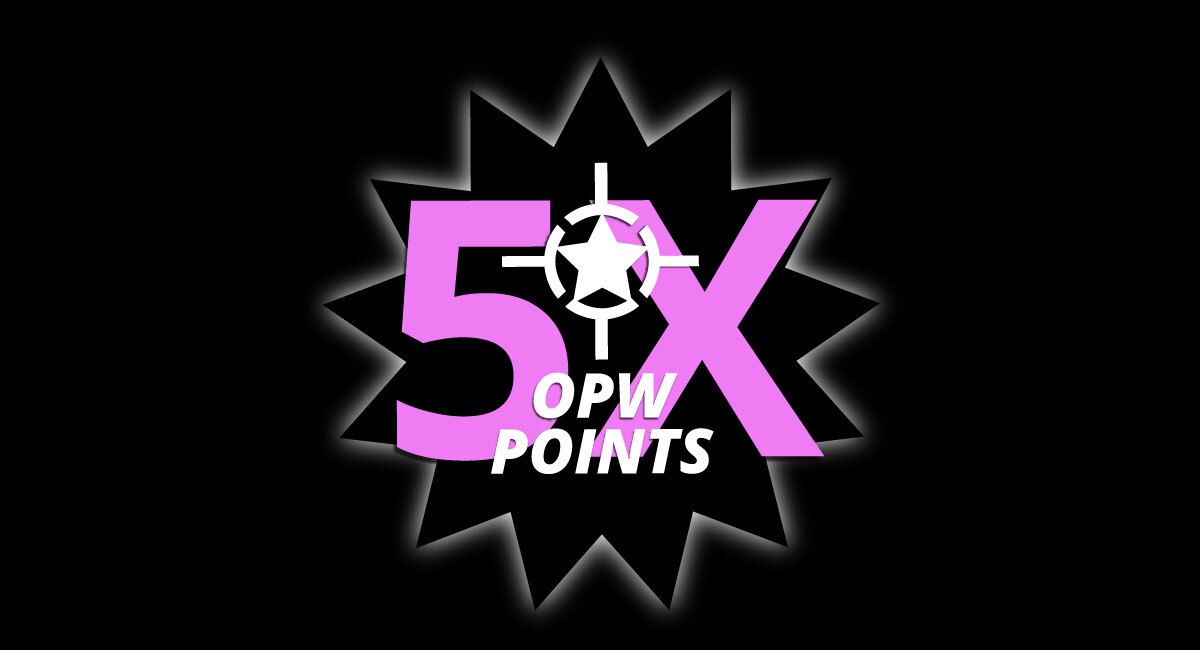 AND!
OUR BLACK FRIDAY CLEARANCE AND OUR INSANITY DEALS WILL BE OPEN THROUGHOUT WITH GREAT DEALS AND HUGE SAVINGS!
BLACK FRIDAY SALE ENDS 29TH NOVEMBER 2021
...
JOIN THE MAILING LIST FOR EARLY ACCESS: https://mailchi.mp/opticswarehouse.co.uk/subscribe
...
WE HAVE BEEN BUSY LOCKING-IN GREAT PRODUCTS AT GREAT PRICES AND WE CAN'T WAIT TO SHOW YOU THE GREAT DEALS HEADING YOUR WAY.
IF YOU HAVE ANY QUESTIONS OR REQUIRE ANY ASSISTANCE, PLEASE BE IN TOUCH!

WE WILL AIM TO GET YOUR ORDERS OUT TO YOUR ASAP BUT PLEASE BEAR IN MIND DELIVERY TIMES MAY BE SLIGHTLY LONGER THAN USUAL DUE TO THE EXPECTED HIGH VOLUME OF ORDERS AND COURIER SERVICES ADVISING LONGER DELIVERY TIMES.
HAPPY SHOPPING,
TEAM OPW
---
PRICE MATCH GUARANTEE

Please contact sales@opticswarehouse.co.uk or call 01803 611 895.
Terms & Conditions
OPW will match the prices of in-stock products (excluding Optics Draws, delivery charges or other services) offered on identical terms and where we can check the price, stock position and where relevant your eligibility to purchase from the competitor.
The OPW Price Match Guarantee is only valid for UK retail stores and not those outside of the UK Mainland. OPW will match against any other online UK retailer store. OPW does not match trade prices, prices only available as part of paid for membership/subscription, prices on Amazon, Gumtree and eBay or 3rd party marketplace seller prices e.g. GunTrader, GunStar UK etc.
We do not match exclusive discounts e.g. staff/ student/ NHS staff blue light and/or store discount codes.
Our competitor's product must be the same model number as ours. Both OPW and the competitor must have the product in stock and ready for delivery.
The OPW Price Match Guarantee is only valid at the time of sale and cannot be contested on previous orders.
We reserve the right to refuse a price match where we suspect fraud or unauthorised reseller activity.
As always, OPW Price Match is at our discretion. Where an item has been reduced to match a price, we may withhold current promotions on that item.
We endeavour to reply to your enquiry within 24 hours.